TELEGRAPH EQUIPMENT
ROTARY SWITCH, PRESSBUTTON AND LEVER OPERATION FOR SINGLE AND TWIN ENGINE SHIPS.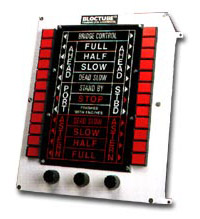 From Ship's Bridge to Engine Room with Speed and Reliability Remote Control for Operations of Main Engine.
Engine Telegraphs - Pressbutton type - with 12, 11, 9 or 7 orders.
Our transmitting and receiving units are carefully engineered with the latest electronic components. These systems are very reliable and easy to use.
Telegraphs are available as single screw and twin screw systems
Panel or bulk head mounting with illumination and dimmer switches.
Alarm bells, flashing beacons or buzzers to your requirements.
The Pressbutton Telegraph is used in conjunction with other remote engine controls as an Emergency Telegraph. Strict QUALITY ASSURANCE to ISO9001 Accreditation guarantees all BLOCTUBE products. As a well-established manufacturer today's Telegraph systems have gone through all the development stages, i.e. mechanical, electric, pneumatic and now the latest electronic technology. This program has earned an excellent reputation for precision and reliability in navigation of ships, small and large.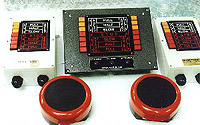 Telegraph - Rotary switch type -
all with 12 orders
Transmitter: in bridge, 12-position rotary switch for transmission of orders to engine room and/or machinery control room.
Each station has 12 individual indicators for highlighting instructions, internal dial illumination and dimming unit, complete with internal alarm unit. All suitable for panel or bulkhead mounting.
---
Genuine spare parts for Chadburn "Universal" and "Synchrostep" Telegraphs - servicing by our own engineers.