AIR/ELECTRIC HORNS
Commercial and Military air horns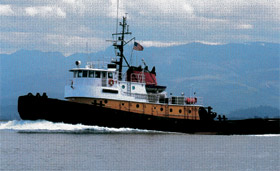 Bloctube Marine Services Ltd is certified to the ISO9001:2008 quality management system requirements for the design and manufacture of its products. All Marine sound signals we supply, meet or exceed performance standards established by the International Maritime Organisation (IMO), (72 COLREGS). Type approval certificates and/or additional classification society and government approvals can be provided with each shipment.
All commercial horn models are developed to withstand the punishment of commercial and military service. Their durability has been demonstrated over decades of service on all sizes and types of ocean-going vessels, ranging from yachts and work boats, to aircraft carriers.
Air Horns for vessels less than 75 metres in length.
Air Horns for vessels over 75 metres in length.
Pistol horns for vessels over 75 metres in length.
We also repair and refurbish air and electronic horns.